Jot's Resort - About Gold Beach
Location
Gold Beach is the county seat for Curry County and is located on the Southern Oregon coast at the mouth of the Rogue River, just 37 miles north of the Oregon/California border. Gold Beach is on the South side of the Rogue River while Wedderburn is on the North side, with both towns commonly referred to as Gold Beach. Jot's Resort is located on the North bank of the Rogue River bay in Wedderburn. Find out more about visiting Gold Beach and about the business community.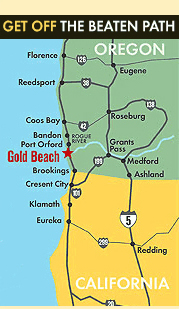 Weather
Gold Beach is within Oregon's "banana belt", a narrow stretch of latitude that experiences unusually mild weather all year long. The summer and winter mean temperatures differ by only about 10 degrees F. June through August temperatures average 58.3 degrees F while December through February temperatures average 47.7 degrees F. Average rainfall is about 80", most of which occurs in the winter. Summer months are mostly dry.
History
Gold Beach gets it's name from the fact that gold was discovered along the black sands of the beaches near the mouth of the Rogue River in the early 1850's. The settlement of miners shortly became known as Ellensburg. The name was changed to Gold Beach in Pot of Gold 171890, but the stretch of highway 101 that runs through Gold Beach is still named Ellensburg Avenue. Commercial fishing became a major industry in the 1850's. In the 1890's, sail and pole powered boats began taking mail to the small towns upriver. Eventually, these boats were motorized and began taking passengers. Now, these boats carry close to 60,000 tourists annually, and they still deliver the mail.
The Isaac Lee Patterson Bridge
The Isaac Lee Patterson bridge was built in 1931 with it's completion in January of 1932. It spans 1939 feet across the Rogue River. At that time, it was the most advanced concrete bridge in America and is now designated by the American Society of Civil Engineers as a National Historical Engineering Landmark.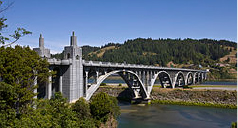 Miscellaneous Facts
Gold Beach Population : 2,069
Curry County Population : 21,300
Telephone Area Code : 541
Telephone Prefix : 247
Radio Station KGBR : 92.7 FM
Newspaper : Curry County Reporter (weekly)
Cable TV : Charter Communication - 30+ channels